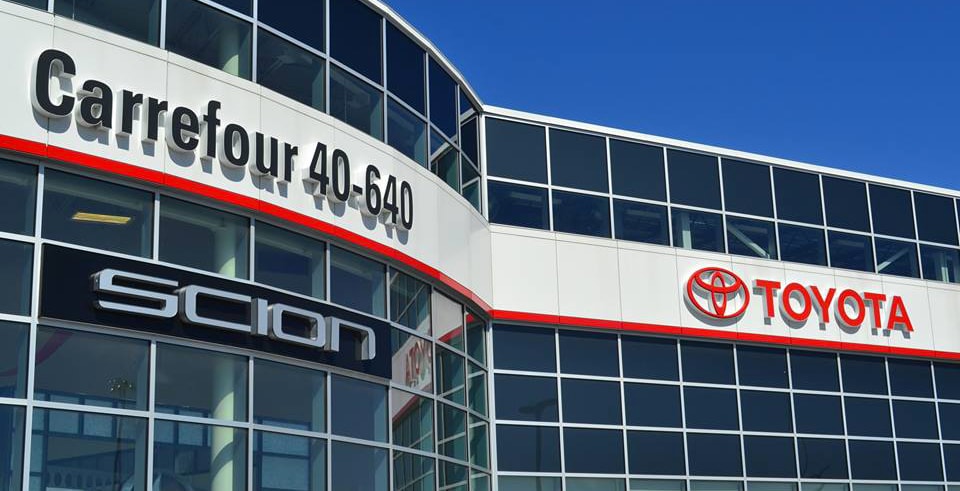 Welcome to Carrefour 40-640 Toyota. Thanks to its enormous inventory of new and secondhand vehicules, sport utility vehicules (SUV) and Toyota trucks, Carrefour 40-640 delivers your next Toyota faster and at the best price.
Each month, Carrefour 40-640 Toyota offers promotions on new and secondhand vehicules. In addition, save even more with our inventory of Toyota demo cars with less than 15 000 kilometers on the counter. If you need more information about new Toyota or Scion vehicules, do not hesitate to contact us at 450-581-3540 or by our information request form and a sales representative will be happy to help you.
Come visit our huge exposition room of new and secondhand vehicules.

Come join the great family of Carrefour 40-640 Toyota-Scion! 

Please take note that between the Saint-Jean-Baptiste and la fête du travail, the sales department will work on the summer schedule
Summer schedule
New / Pre-owned cars sales department
Monday
:                   9h - 21h
Tuesday
:                  9h - 21h
Wdnesday
:                 9h - 21h
Thursday
:                 9h - 21h
Friday
:                   9h -

18h